Studia wyższe
Fürstenwalde staje się ośrodkiem akademickim
Nasza Szkoła Zawodowa im. Pauli Fürst rozszerza swoją ofertę edukacyjną w dziedzinie społecznej. Od jesieni 2021 roku w Fürstenwalde będzie można studiować. W ten sposób miasto stanie się ośrodkiem akademickim.
Taki projekt wymaga silnego partnera. Naszym jest Wyższa Szkoła Zawodowa Średniej Przedsiębiorczości (Fachhochschule des Mittelstands), w skrócie FHM. W ten sposób staniemy się ośrodkiem FHM. Zajęcia stacjonarne będą odbywać się w naszych pomieszczeniach i będą prowadzone przez naszych pracowników.
Studia "Bachelor of Arts pedagogiki społecznej i zarządzania" uzupełnią naszą ofertę w zakresie pedagogiki społecznej, co pozwoli nam rozszerzyć profil społeczny. Będziemy pierwszą szkołą zawodową w Brandenburgii, która zaoferuje ten specjalny model kształcenia.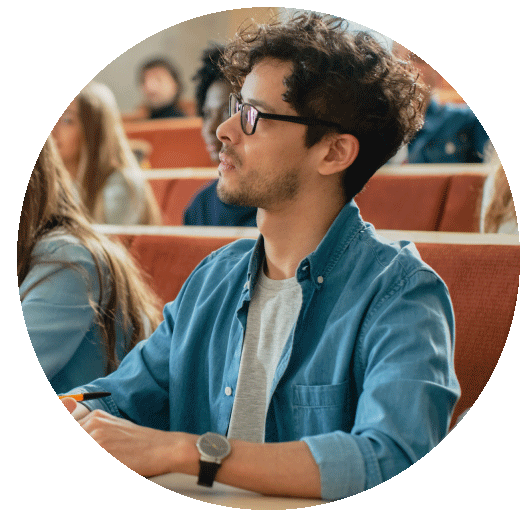 2 modele studiów
Będziemy oferować 2 modele studiów niestacjonarnych, aby uczynić je atrakcyjnymi zarówno dla uczniów naszej szkoły zawodowej, jak i dla studentów z zewnątrz. Studia będzie można rozpocząć równolegle z nauką zawodu, jak również z pierwszą pracą. Opracowaliśmy koncepcję studiów zintegrowanych i konsekutywnych.
Koncepcja studiów zintegrowanych – 2 dyplomy w 4 lata
Model studiów zintegrowanych umożliwia studentom zdobycie w ciągu czterech lat kwalifikacji:
wychowawca z uprawnieniami uznanymi przez państwo
Bachelor of Arts (B.A.) pedagogiki społecznej i zarządzania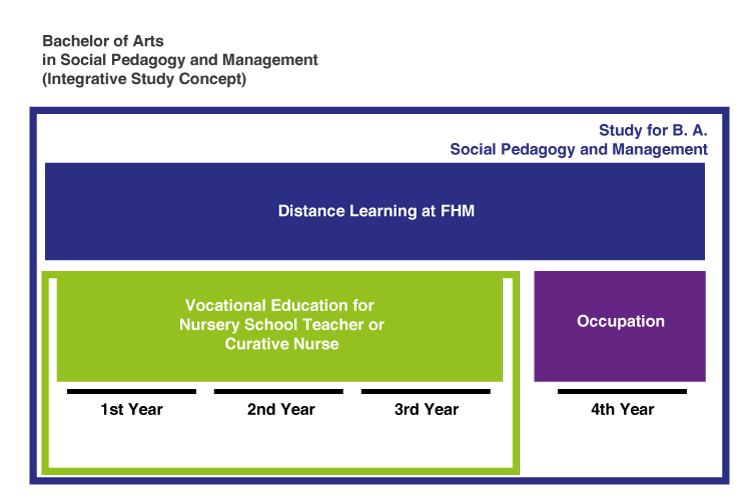 Treści kształcenia wychowawców:
ukierunkowanie na świat przeżywany i profesjonalne budowanie relacji
społeczne uczenie się i pedagogika grupowa
wspieranie indywidualnych procesów rozwoju i kształcenia
teoria i praktyka pedagogiki społecznej
studium generale (praktyczne ćwiczenia zawodowe)
studia w praktyce (praca nad projektem)
Uzupełniające moduły studiów licencjackich obejmują umiejętności zarządzania i pracy naukowej:
ekonomika przedsiębiorstw i zakładanie działalności gospodarczej
zarządzanie strategiczne i zrównoważone kierowanie przedsiębiorstwem
rozwój organizacji i zarządzanie jakością
zarządzanie społeczne i zarządzanie zasobami ludzkimi
Koncepcja studiów konsekutywnych – skrócony czas studiów
"Bachelor of Arts (B.A.) pedagogiki społecznej i zarządzania" w zaledwie 2 lata dzięki zaliczeniu treści kształcenia. Model konsekutywny to oferta dla osób z wykształceniem wychowawcy lub opiekuna wychowawcy osób niepełnosprawnych.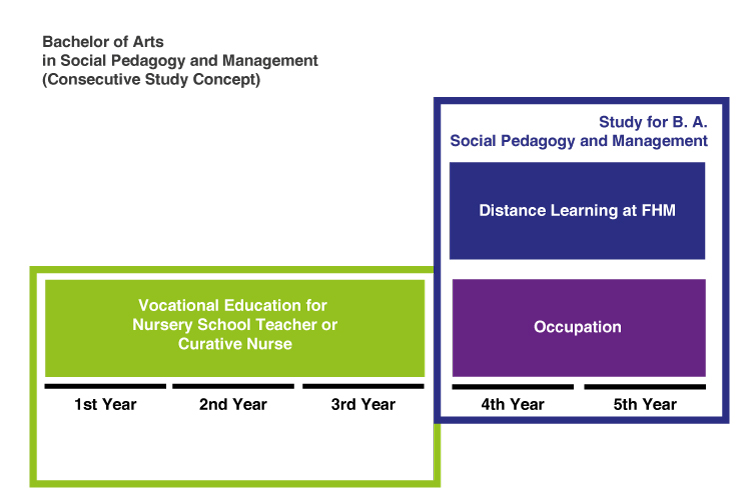 Studenci rozpoczynają studia po ukończeniu kształcenia. Nie ma przy tym znaczenia, jak długo pracują w zawodzie lub czy też dopiero rozpoczęli pracę zawodową.
Podczas dwuletnich studiów niestacjonarnych kontynuują pracę zawodową i przychodzą na zajęcia do naszej szkoły w ustalonych dniach. Skrócony czas kształcenia i studiów pozwala im zaoszczędzić rok w porównaniu z klasycznymi studiami stacjonarnymi na innej uczelni.
Opłaty za studia
Studia w FHM są płatne. Płatności dokonuje się co miesiąc przez cały okres studiów, tzn. przez 24 lub 48 miesięcy.
FHM pobiera również jednorazowe opłaty za postępowanie rekrutacyjne i egzamin licencjacki. Należy je uiścić na początku lub na końcu studiów.
4 dyplomy w ciągu zaledwie 6 lat
W połączeniu z wcześniejszym kształceniem w zawodzie asystenta socjalnego, które również oferujemy w naszej Szkole Zawodowej im. Pauli Fürst, ta konstelacja (2 kierunki kształcenia i jeden kierunek studiów) umożliwia uzyskanie 4 dyplomów w ciągu zaledwie 6 lat nauki!
Osoby, które rozpoczynają u nas kształcenie w zawodzie wychowawca bez uprawnień do ubiegania się o przyjęcie na studia wyższe, mogą w jego trakcie bezpłatnie zdobyć świadectwo uprawniające do studiowania na uczelni zawodowej. Uczniowie, którzy wybierają tę drogę na początku nauki, realizują dostosowany do ich potrzeb program nauczania.