Academic Education
Fürstenwalde Becomes a University Location.
Our vocational school Paula Fürst is expanding its educational offer in the social field. It is possible to study at Fürstenwalde for the first time. This makes Fürstenwalde a university location.
A strong cooperation partner is required for such a project. We found this with the University of Applied Sciences for Medium-sized Companies (Fachhochschule des Mittelstands) or FHM in short. We will become the FHM university location. The physical classes are taking place on our premises and are carried out by our advisors.
The "Bachelor of Arts in Social Pedagogy and Management" is complementing our socio-pedagogical educational program, with which we can further expand our social profile. We will be the first vocational school in Brandenburg to offer this special educational offer.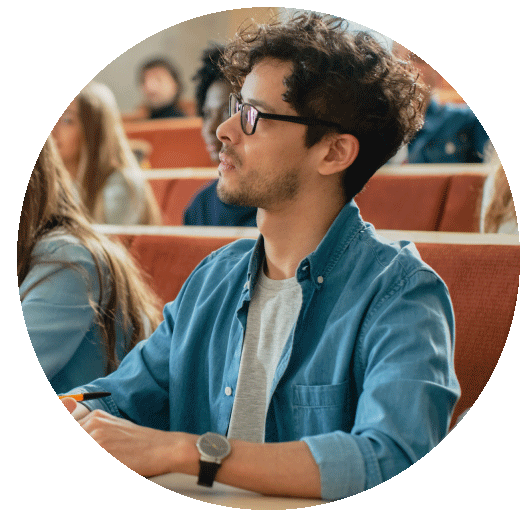 2 Models of Study
As a distance learning course, it is offered in two ways. This should make the course attractive for both students from our vocational school and external students. The course can be studied either in combination with the vocational training or while continuing the professional work. There will be an integrative and a consecutive study concept.
Integrative Study Concept – 2 Degrees in 4 Years
Using the integrative study model, students acquire the following qualifications within four years:
State-approved nursery school teacher
Bachelor of Arts in Social Pedagogy and Management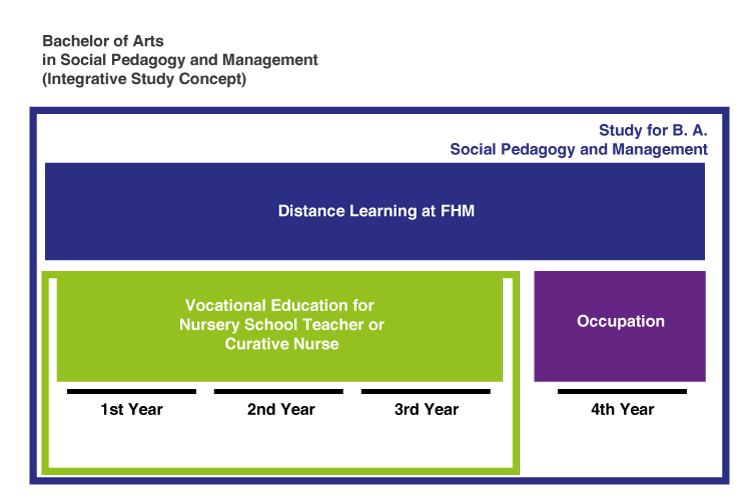 Course content of the vocational training for nursery school teacher:
Orientation towards the world of living and professional relationship management
Social learning and group education
Promotion of individual development and education processes
Socio-educational theory and practice
Practical professional exercise
On-the-job training (project work)
Supplementary modules of the bachelor's degree contain management skills and scientific work:
Business administration and entrepreneurship
Strategic management and sustainable corporate governance
Organizational development and quality management
Social and human resource management
Consecutive Study Concept – Shortened Study Duration
In just 2 years to the Bachelor of Arts in Social Pedagogy and Management by crediting of vocational training content. The consecutive model is an offer for nursery school teachers and curative nurses.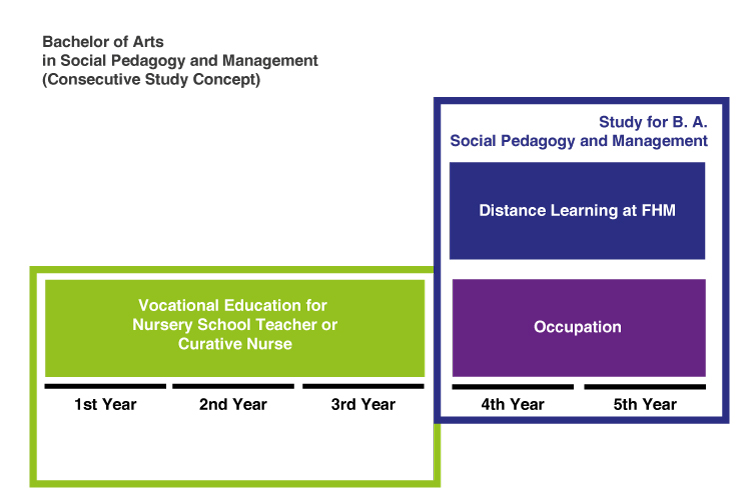 The students enter the course after completing their vocational training. It does not matter how long you have been working in your profession or whether you have just started working.
During their two-year distance learning course, students continue their professional work and come to our vocational school at fixed times. Due to the shortened training and study time, the students save one year compared to a regular full-time study at another university.
Tuition Fees
The FHM raises tuition fees. Payments are made monthly over the entire duration of the study period at the FHM which may range between 24 and 48 months.
The FHM also charges a one-time fee for the admission procedure and the examination. These are due at the beginning or at the end of the FHM distance learning course.
4 Degrees in Just 6 Years
Coupled with the preceded vocational training for a social assistant, which is also offered at our vocational school Paula Fürst, you may achieve 4 degrees in just 6 years study period (2 vocational trainings and 1 degree course).
Anyone who begins the training as a nursery school teacher with us without having a university entrance qualification can make up for the advanced technical college entrance qualification during the training at no cost. Those who choose this path at the beginning of their training receive an adapted curriculum.